It's happening with more and more families- as parents age and need additional care, they are moving in with their adult children, but sharing the same living space can be tricky.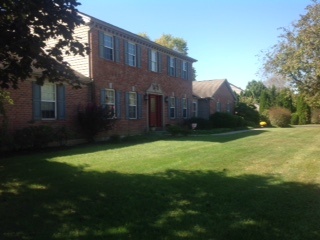 Families like this one in Wescosville, are coming up with great solutions, like creating an in-law suite for the grandparents. This ensures their cherished grandparents can be close to family, but still have independence.
Like many older people, the in-laws in this family had comfort needs different than the rest of the family- and no one likes having ongoing arguments over the thermostat.
The homeowners gave us a call to see if we could come up with a solution that would ensure the comfort they needed for the in-laws, without causing discomfort and stress for everyone else at the same time.
Problem: The new in-law suite needed additional heating and cooling options separate from the rest of the home, to ensure the grandparents got the comfort they needed.
Solution: Create a separate zone of heating and cooling in the in-law suite using Bryant ductless that provides both heating and cooling in one unit, ensuring year-round comfort customizable for the in-law suite separate from the rest of the home.
It's great to have families living together, especially as grandparents age. As we age, we tend to get more sensitive to changes in temperature, and older people tend to like it a bit warmer in the winter and not as cool in the summer as the rest of the family. That can cause a problem when there's only one heating and cooling system for a home.
When we came and saw the home, we knew that we could create a great solution for them by using a Bryant ductless heat pump system.  
These systems can provide both heating and cooling, and people use them to help create separate heating and cooling "zones" in their home, to provide just the right level comfort where they need it most. The indoor units can be wall mounted or floor mounted, and one outdoor heat pump can serve multiple indoor units, but each unit can be controlled independently, allowing customization for an area as needed.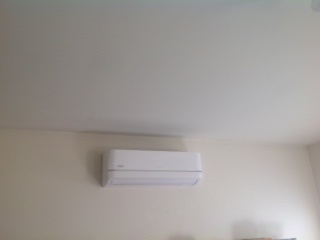 For the in-law suite, the in-laws required additional comfort for both the bedroom and living room areas. We recommended a wall-mounted system for the bedroom, that could deliver the heating and cooling needed, and ensure great distribution throughout the room. The units monitor both temperature and humidity, and are also very quiet, ensuring a good night's sleep in perfect comfort, no matter the time of year.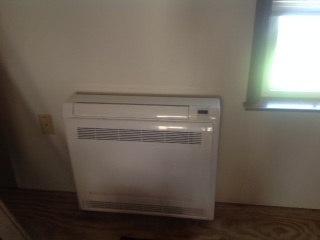 In the living room area, a wall mounted unit worked well. It looks similar to a unit you might see in a hotel room, delivering the comfort needed throughout a space, but without giving a sensation of "blowing down on you" that older people can be sensitive to.
Each unit is controlled by a handy remote control, allowing the grandparents to adjust the temperature in each room as needed, delivering the comfort they need on demand. And these separate zones won't affect the heating and cooling in the rest of the home, making sure the family can be as comfortable as they want while making dinner or doing homework, without worrying about whether Grandma is too hot or too cold.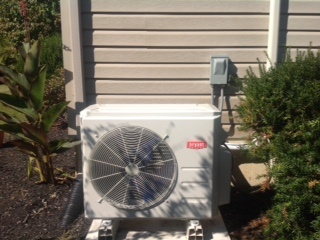 Best of all, Bryant heat pump systems are incredibly energy efficient. They work with inverter technology, using just the energy needed to maintain a consistent temperature, reducing big temperature swings and saving energy in the process. The system works well even in temperatures down to -22 degrees, meaning the in-law suite will always be perfectly comfortable, no matter what Mother Nature dishes out in Wescosville and the entire Allentown area!! This state-of-the-art technology ensures that the additional comfort for the in-law suite won't end up producing huge energy bills- we expect that the homeowners may actually see their energy bills drop now that they have these separate zones of comfort installed!
At ICS Heating and A/C, there's nothing more satisfying than finding the perfect comfort solution to care for your family like it's our own. We were so happy to help this family create the perfect solution for their aging parents and helping to contribute to their long term comfort.
If you have heating and cooling needs for those special areas of your home, give us a call. We're happy to help design the perfect solution for your family to ensure comfort for years to come!